A
NEW STANDARD

IN HIGH‑PERFORMANCE
FIRE SUPPRESSION
The Gradall FA System with the patented 5th Man fire head, telescoping boom and rapid deployment outriggers, effectively combine with existing truck chassis providing fire departments with an innovative fire suppression tool.
The result is a new breed of emergency response vehicles capable of state-of-the-art fire suppression excelling on sites involving new building materials and designs. With the Gradall FA apparatus, firefighters can launch a technical assault on hostile fires with optimum efficiency and improved safety.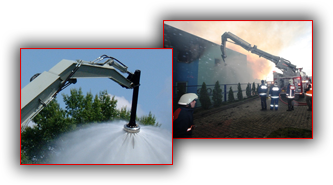 REQUEST MORE
INFORMATION
Gradall Industries invites inquiries from established firefighting vehicle manufacturers, and from fire departments that want to explore this revolutionary concept.